The 48 Hour Film Project New Haven might seem like an overwhelming task, and it is. But that doesn't mean you should be intimidated or not accept the challenge.
You have the power to tell a story. Use it. First and foremost you might think a lack of familiarity or budget for Hollywood-style film equipment is a hurdle. It's not. Reach into your pocket and take out your smartphone. Today's smartphones have some of the most power cameras built-in. And we all have them.  
Now, maybe you're going to say, you're not a professional screenwriter. That's fine. Do you know how a story is structured? Beginning, middle, end. That's it. Keep it simple.
And we get it, a blank piece of paper is terrifying:
(Look at it taunting you, waiting for you to add something, anything)
The 48HFP helps! We provide the character, prop, line of dialogue, and a random genre.
(Now look at it, that's much easier to help kickstart your story).
Finally, the longer you have to think about something, the harder it is to get it done. You always second-guess yourself, trying to make it perfect. The 48HFP doesn't afford you that time. The deadline fast approaches and you must get to work. It doesn't have to be perfect.
And maybe you're afraid of not doing well. The 48HFP is not about winning or losing, it's about having a fun time challenging your creativity. What do you have to lose by doing this? A little bit of sleep? C'mon, you can catch up your ZZZ's during the week. 
So, in the immortal words of Shia Lebeouf: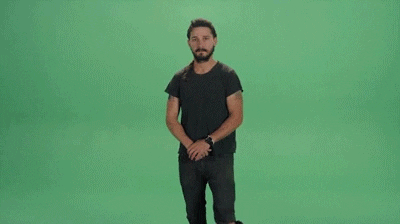 The 48 Hour Film Project New Haven returns July 2018 for it's 8th season. Filmmakers from all over will come together and challenge themselves to make a short film in only 48 hours. 
All films will be screened at the The State House, New Haven. 
Regular registration ends July 17th and filming takes place July 27th-29th. 
The 2018 48 Hour Film Project New Haven is proudly presented by the Connecticut Office of Film, Television, and Digital Media. 
Please reload